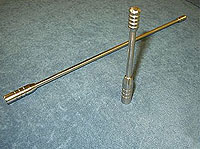 This is a polished billet stainless steel antenna that will fit Chevy 88-2005 fullsize trucks, or any other vehicles that have a male M6 X 1.00 metric thread for the antenna mount.

To check the fitment for other model vehicles you can spin off your stock antenna and check the mount. M6 x 1.00 is just smaller than ¼".

This antenna will not corrode like many of the aluminum models offered by other manufacturers.