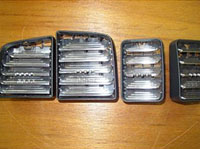 Chevy billet that is a billet aluminum vent fin kit to convert your stock plastic air vents to billet. This kit includes replacement fins for all four vents in the dash.

These are a very classy addition to any interior and look much better than some of the cheesy aftermarket vents that are out there. This kit is newly designed and CNC machined

Fits GM 99-2006 fullsize trucks including the Avalanche, Escalade, Denali, Sierra, Silverado, Suburban, and Yukon.

We furnish complete instructions to make the conversion easy. .